BRIDAL SERVICES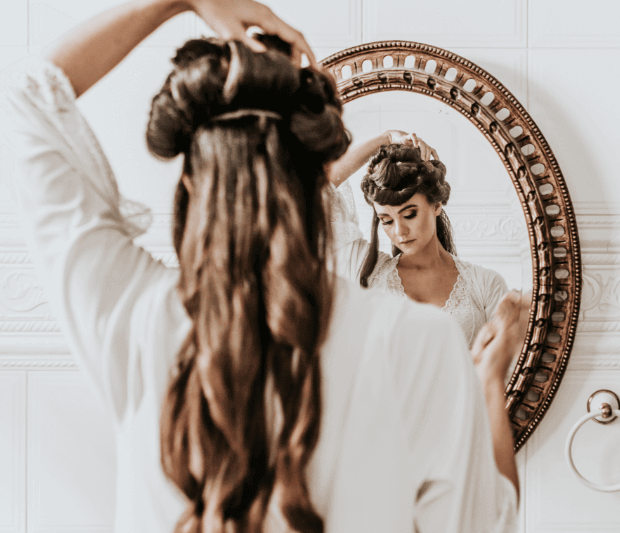 Bridal
On Location Services

Bridal Hair & Makeup Trial

upon consultation

$175+

$175+

$150+

Mother of the Bride/Groom

$100+

Bridesmaids/ Mothers Makeup

$125+

(Makeup services include false lashes if desired)
Our Salon Location Services

Bridal Hair & Makeup Trial

$150+

$150+

$150+

$85+

Mother of the Bride/Groom

$50+

Bridesmaids/ Mothers Makeup

$85+

(Makeup services include false lashes if desired)
House of Excellence Bridal Tips
Always schedule a consultation and trial for you hair and makeup before your wedding day. At your initial consultation with our bridal specialists, you can bring your veil, any hair accessories you plan to wear, a photo of your dress, and photos of bridal hair styles that you like. We highly recommend scheduling trial run appointments and wedding day appointments well in advance.
Schedule your appointments in advance to insure your House of Excellence bridal team is available for your appointment requests.
On your wedding day, please wear a button up shirt so as not to mess up your hair or makeup.
Plan ahead for the weather, especially if you are planning an outdoor wedding. Long flowing hairstyles do not hold up well outside with high humidity.
Plan your hair color service in the week prior to your wedding day. Your haircut or trim should be planned at least 2 weeks in advance of your wedding day.
For best results, please have your hair already shampooed and blow dried prior to your Bridal Style service
Unless otherwise noted, hair should be dry but not necessarily styled and without product unless specified.
If you have others getting their hair done with you, please insure they are all prepared for the start time as some styles may take more time than, others.